2315 W. Canada St. | Tucson, AZ 85746 | Office: 520-908-5300 | Fax: 520-908-5301 | White@tusd1.org
School Hours M, T, Th, F: 7:40 am - 1:55 pm | School Hours W: 7:40 am - 12:55 pm | Office Hours: 7:30 am -4:00 pm
What is Happening in May
Coming Up
Monday May 23 - 5th Grade Kickball
Tuesday May 24 - Field Day
Wednesday May 25 - Kindergarten Promotion
Thursday May 26 - 5th grade Promotion and Last Day of School
Get Your Yearbook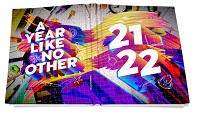 It has been a year like no other. Reminisce by purchasing a yearbook. They are located in the office for $12.00, while supplies last.

DISTRICT AND STATE TESTING
State testing is over for this school year. Great work students! Let's finish the year strong!
Information for parents
Story School is a free early reading program for ages 0-5 yrs old. Families get 20 free books and school supplies. Story school meets every Tuesday for one hour at the school in the MPR building until June 28th.

Escuelita de Historia es un programa gratuito de lectura temprana para las edades de 0-5 años. Las Familias reciben 20 libros gratis y artículos escolares. El programa es solo los Martes y dura 1 hora por 11 semanas.

Contact Mrs. Gastelum at 520-908-5300 with any questions
SUMMER CAMPS
Hello TUSD Parents
This summer the Governor's office has announced the AZ on Track Free summer camps. https://azontrack.com/
Announced at the 2022 State of the State by Governor Doug Ducey, AZ OnTrack Summer Camp has been designed to address the learning gaps and losses that the last two years have caused students statewide — and throughout the world. Over $100 million from the American Rescue Plan Act has made it possible to fund these varied Summer Camp offerings. Camp is available to any PreK–12th grade student in Arizona. Eligible campers include students in need of credit recovery or those who have dropped out and wish to re-enroll. Camps must prioritize enrollment for vulnerable students, including those with demonstrated academic needs. Here's the map of Tucson locations.
Families struggling to find a Summer Camp in their area can request enrollment assistance from a Family Navigator in English or en español.
Thank you

Hola Padres de TUSD
Este verano la oficina del Gobernador anuncio que habrá Campamentos de Verano Gratis con AZ al Corriente. https://azontrack.com/
Fue anunciado en el Estado del Estado 2022 por el Gobernador Doug Ducey, el Campamento de Verano con AZ al Corriente ha sido diseñado para abordar las brechas del aprendizaje y perdidas que afectaron a nuestros estudiantes esto últimos dos años en todo el estado ---- y en el mundo entero. El Acto de Rescate Americano ha fundado mas de $100 millones de dólares para hacer posible estos Campamentos de Verano. Los Campamentos estan disponible para estudiantes en Arizona de PreKinder al 12vo grado. Entre los estudiantes elegibles están los que necesitan recuperar crédito en la preparatoria o aquellos que dejaron la escuela y desean registrarse de nuevo. Los campamentos deben priorizar las inscripciones a los estudiantes mas vulnerables, incluyendo aquellos con necesidades académicas. En la pagina también hay un mapa de las locaciones en Tucson y puede escoger el lenguaje en español.
Las Familias que tengan dificultad encontrando un Campamento de Verano en su área pueden pedir asistencia en la pagina de azontrack.com de un Navegador para Familias.
Gracias
COUNSELOR'S CORNER
Working with the Counselor Individually or in a Small Group:
If you have a student that you feel would benefit from speaking with a counselor, working individually or as part of a small group to improve a specific skill, please email Mr. Logan Mutz at
logan.mutz@tusd1.org
.
"I really rely on families, teachers and students themselves to let me know if they need support. As always, please do not hesitate to reach out if you have any questions. You can contact me by email or by phone at (480) 779-0318."
Thank you,
Mr. Mutz
RUN CLUB 2022
Wow! We've had a great Run Club Season! Thank you to all the kiddos, families, and staff members who showed up for our amazing end of the season field day. We had so much fun celebrating and being active outside. Even the wind couldn't cancel our fun.

Check out our ACHIEVEMENTS this season
We have 150 active members

2,301.38 total miles run for an average of 15.34 miles per student
Our Top Mileage Earners:
Sean Geoffroy, 3rd grade (Brennan) 52.33 miles

Javier Flores, 4th grade (Bowman) 45.33 miles

Jesus Lopez, 2nd grade (Ramirez) 37.67 miles

Federico Martinez, 3rd grade (Molina) 36.67 miles

Sai McDaniel, 2nd grade (Espinosa) 36.00 miles

Christian Lopez, 3rd grade (Brennan) 34.67 miles

Jayla Martinez, 3rd grade (Brennan) 33.00 miles

Jacob Figueroa, 3rd grade (Sandra) & Jayden Osuna, 4th grade (O'Neil) 32.00 miles

10. Aaron Geoffroy, 4th grade (O'Neil) 31.67 miles
Top

Mileage Earners

by Grade
2nd grade: Jesus Lopez, 37.67 miles
3rd grade: Sean Geoffroy, 52.33 miles
4th grade: Javier Flores, 45.33 miles
5th grade: Maasai Martinez, 23.00 miles
Mileage by Grade
3rd Grade, 701.68 miles
2nd Grade, 602.35 miles
4th Grade, 565.68 miles
5th Grade, 431.68 miles
What Makes Us Special
John E. White Elementary is a pre-K through fifth grade school with Two- Way Dual Language and Self Contained GATE (Gifted and Talented Education) classes offered at each grade level. Our school has onsite a ELD ( English Lanuage Department). New to our school this year we have a class program called OMA ( Opening Minds throught the Arts) K-2 students will work with Mrs. Chang for 30 mintues, twice a week during the first semester of this school year. White has a full-time MTSS (Multi-Tiered System of Support) Facilitator and a full-time CSP (Curriculum Service Provider) for both teacher and student support. On campus we have one full-time counselor and part time community liaison that help with the community with resources and social media information.. We are a PBIS (Positive Behavior Intervention and Support) school and focus on positive behaviors. We take a collaborative approach to education, involving parents, faculty and the community in decisions about the school. White has maintained a B letter-grade rating for 7 years.
OMA PROGRAM
Opening Minds through the Arts Program is offered at White Elementary to K-2 students
OMA is an innovative approach to learning provided by the district. Our K-2 students will work with Mrs. Chang for 30 minutes, twice a week during the first semester of this school year. Mrs.Chang will collaborate with classroom teachers and the principal, Mr. Ruiz, to design unique and appropriate lesson plans for each class. Our students will be exposed to creative music activities, integrating classroom topics while learning basic music concepts and theory. This program aims to enhance students' perceptual development and creative thinking skills, which will lead to improving their listening skills, problem-solving skills, and comprehensive skills. For more information on OMA programs, please click http://www.tusd1.org/Departments/OMA or contact our teacher at White Elementary, Ms. Hsin-Chih Chang, at Hsinchih.Chang@tusd1.org
ENROLLMENT 22-23
Hello TUSD Community,
TUSD Open Enrollment Applications for 2022-2023 are now being accepted. Open enrollment gives you the freedom to choose the school that best fits your child's passion. We have over 100 schools and programs, where your child will succeed and thrive with others who share their interests. Take a closer look at what our schools have to offer. Note: If your child already has an open enrollment/magnet placement and is continuing at the same school you do not need to reapply. Apply Online today
http://https://applytusd1.org/
or call us at 520-225-6400 or make an appointment with our Enrollment Ambassadors in the School Community Services office at 1010 E 10th, Building B. We look forward to receiving your Application or seeing you soon.
-The School Community Service team
Tucson Unified- Creating a Joyful, Safe place for Student Success
Kindergarten 2022 Information English
Kindergarten 2022 Espanol